It's almost that time! The most romantic day of the year is coming up, and this is your chance to show that special someone just how much you care. Montreal has everything you need to plan a super memorable Valentines Day this year! Here are five great ideas for you and your beau.
Skate @ Jarry Park
Photo cred: MTLBlog
Jarry Park has a public rink where the pond is in the summer! Get some hot chocolate, lace up, and skate circles hand in hand with your love. Check the weather forecast before you go so you can bundle up in enough layers! You don't want to be distracted from your date.
Indulge @ Juliette Et Chocolat
Photo cred: The Main MTL
I don't know exactly why chocolate and Valentines Day are so commonly associated with one another, but I'm not complaining. Juliette Et Chocolat is chocolate heaven. They have everything from rich hot chocolates to waffles and crepes to ice cream bowls. It's to die for!
Dance @ Igloofest
Photo cred: Igloofest
Igloofest is hosting a huge free party to celebrate Montreal's 375th birthday! It just so happens to fall on days right around Valentines Day. Combine your celebrations and dance the night away with the one you love!
Walk @ Mount Royal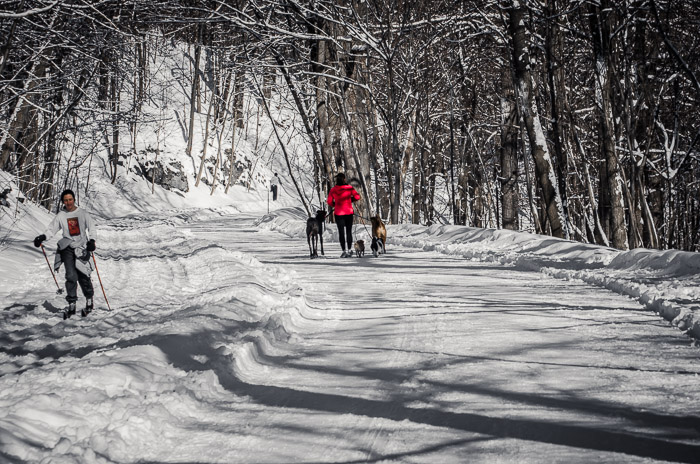 Photo cred: Montreal in Pictures
People kind of stop going up the mountain as soon as there's snow on the ground. It's a shame, because not only is it still beautiful, but it's way more secluded! Take your V-date up to the lookout and take in the beautiful view—of the city and of them!
Drink @ Loïc
Photo cred: Tastet
Loic is a great mix of classy and hip. It's a little pricier than your average drink spot, but it's great for special occasions! Wear something cute and have a nice cocktail! You and your SO deserve it.