1. Masters of the Spectacular: Spectacle (Jan 26)
Photo cred: Yelp
Dollar Cinema, 6900 boul Decarie
Join in an evening of juggling, magic, illusion and comedy at the Dollar Cinema. With multiple acts and types of performance, this is just the thing to get you out of your winter funk.
2. MTL DUB Session #21- Reggae Dub Night (Jan 14)
Photo cred: Atuvu
La Marché à coté, 5043 rue Saint Denis
Two for one mixed drink specials from 9-midnight? Check! Open mic; jungle, mashup, rub a dub and roots, 80's/90's dancehall and more!
3. Sunday Madness: Dress to Impress (Jan 1)
Photo cred: Le Cinq
Cinq Night Club, 1234 rue de la Montagne
Start the year with this formal party at Cinq. With multiple VIP packages, spend your first party of the year as you wish to spend the rest of your year.
4. Le Happening Gourmand (Jan 5- Feb 5)
Photo cred: The Foodie
multiple locations within the Old Port
This mouth-watering festival is the Old Port's own home-grown food festival. Take a look a participating restaurants' prix-fixe menus for an idea of whats being served this year, and be sure to set aside some evenings on this month's calendar.
5. Natrel Fire on Ice (Jan 7)
Photo cred: Natrel
Bonsecours Island, Old Montreal
This is your last chance to come down to the Old Port and watch this final instalment of music and fireworks again this scenic waterfront backdrop.
6. BARBEGAZI (Jan 6-8, 13-15)
Photo cred: Barbegazi Fest
îlot Clarke
Experience this winter obstacle course in downtown Montreal as part of Montreal's annual Les Hivernales. It's free to participate and there's big bucks at stake for those with the fastest finishing times.
7. Igloofest (Jan 12- Feb 19)
Photo cred: Love This City TV
multiple locations
Every Montrealer's favorite electronic music festival is back! Bundle up and join the throngs of revellers in one of the most fun events all winter!
8. Soap Box Race (Jan 21)
Photo cred: Metro
rue Saint Denis
Watch as handmade soap-box cars hurtle down St Denis in the middle of winter, along a 280 metre obstacle course.
9. Classique Montréalaise (Jan 28 & 29)
Photo cred: MTL Blog
Bassin Olympique, Parc Jean Drapeau
Everyone is invited this extra special annual instalment of Montreal's biggest outdoor hockey tournament, during this year's 375th Hivernales. Tons of fun for players and fun-lovers alike.
10. Shen Yun (Jan 12-15)
Photo cred: Baton Rouge River Centre
Theatre De Maisonneuve, Place des Arts, 175 rue Sainte-Catherine W
This exquisite night of dance inspired by ancient Chinese culture. This gorgeous performance is only appearing over three nights in Montreal so don't miss out!
11. Salute to Vienna (Jan 1)
Photo cred: Mountain Lake
Salle Wilfrid-Pelletier, Place des Arts, 175 rue Sainte-Catherine W
This New Year's day concert from the Strauss Orchestra of Montreal, features an acclaimed cast of dancers, singers as well as a full orchestra from all over Europe.
12. Hike with La Grande Traversée du Saint-Laurent (Jan 28)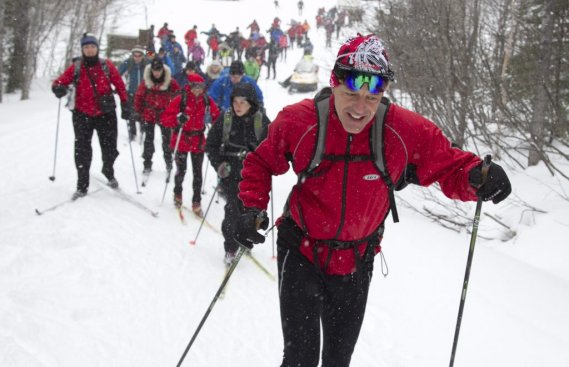 Photo cred: La Presse
Beaver Lake Pavillon, Mount Royal, Traversée de la Gaspésie
This event gives Montrealers the chance to ski or snowshoe the trails designed specifically for La Grande Traversée du Saint-Laurent.
13. All Your Can Eat Wing Night (Jan21)
Photo cred: National Chicken Wing Day
Legion 212, 7771 rue Bouvier
It doesn't get much more Canadian than watching hockey and eating wings- so why not do them both!
14. The Imperial Ball (Jan 1)
Photo cred: Loft Hotel
Loft Hotel Montreal, 314 rue Sherbrooke E
Some say the best way to nurse a hangover is simply to not stop partying. The folks responsible for this event would tend to agree. This red carpet event promises a great evening complete with open bar, professional photographers, welcome cocktail and more.
15. Reel Big Fish @ Metropolis (Jan 14)
Photo cred: Reel Big Fish
Metropolis, 59 rue Saint Catherine W
Get your ska punk live music fix at Metropolis this month, with Reel Big Fish and Anti-Flag live in concert.
16. Flamenca Soirée (Jan 19)
Photo cred: Fan Art
Le Balcon Cabaret Music Hall, 463 rue Sainte-Catherine W
Bust out of that winter slump with a night of lively music and dance!
17. Canada's Top 10 Student Shorts (Jan16)
Photo cred: On Screen Manitoba
Phi Centre, 407 rue Saint Pierre
Featuring the top ten lineup from TIFF's Student Film Showcase, this event provides the nation's best and brightest filmmakers a well-deserved opportunity to display their work.
18. Montreal Fête Des Neiges (Jan 14-Feb 5)
Photo cred: Narcity
Parc Jean Drapeau
The Fête is a beloved winter favourite, which nobody can deny. This year, for the 375th anniversary celebrations, 20 new attractions for all ages and walks of life have been added to the classic set up in Parc Jean Drapeau for a little something extra.
19. Cinema Cabaret: Boogie Nights 20th Anniversary (Jan 25)
Photo cred: Phi Centre
Phi Centre, 407 rue Saint Pierre
Skip the crowded aisles of Twonie Tuesday downtown and catch this cult classic on the big screen for one night only at Phi Centre.
20. T.I @ Olympia (Jan 29)
Photo cred: Drais LV
L'Olympia, 1004 rue Sainte Catherine E
Don't miss your chance to see rap legend T.I put on whats sure to be a terrific show on the Montreal leg of his tour schedule!