So by now, you may have heard that Montreal is home to a Barbie exhibit. Not just any old Barbie exhibit: the largest of its kind in the world. The exhibit launched earlier this year in Les Cours Mont Royal (metro Peel). Admission is free, although a pay-what-you-can donation option to the Make a Wish Foundation is available. The display of 1,000 dolls is located on the second floor in a beautifully renovated space complete with an ambient fountain and decorative fronds. You can enter the mall from Drummond near De Maisonneuve. This entrance brings you directly into the museum.
I'll admit a display of 1,000 Barbies is pretty cool, but there is actually so much more to this exhibit than just a high volume of children's dolls.
Photo cred: divine.ca
The Barbie museum is not just for those among us nostalgic for the imaginary tea parties and dress up days of our childhood. In fact, the dolls in this display would definitely cringe at the thought of forced conversation over a piece of imaginary cake with the "gently loved" Barbies I played with growing up. These ladies (and a few gentlemen, including James Bond, Captain Jack Sparrow, and Edward Cullen) are definitely women of substance at the heights of their careers as brand ambassadors, race car drivers and physical manifestations of precious gems.
This exhibit truly showcases the talent and creativity that has gone into this iconic doll beloved by the generations. Barbie Expo features Barbie in her finest moments, and it might sound trite, but it's kind of inspirational. The people who crafted these dolls had such a keen attention to detail. This is haute couture Barbie at her most imaginative. Those responsible for the Montreal Expo, the ones who have set up several large scale situational displays of dolls in Times Square, partying at the casino and walking/ rotating effortlessly on a never-ending catwalk, are responsible for the display.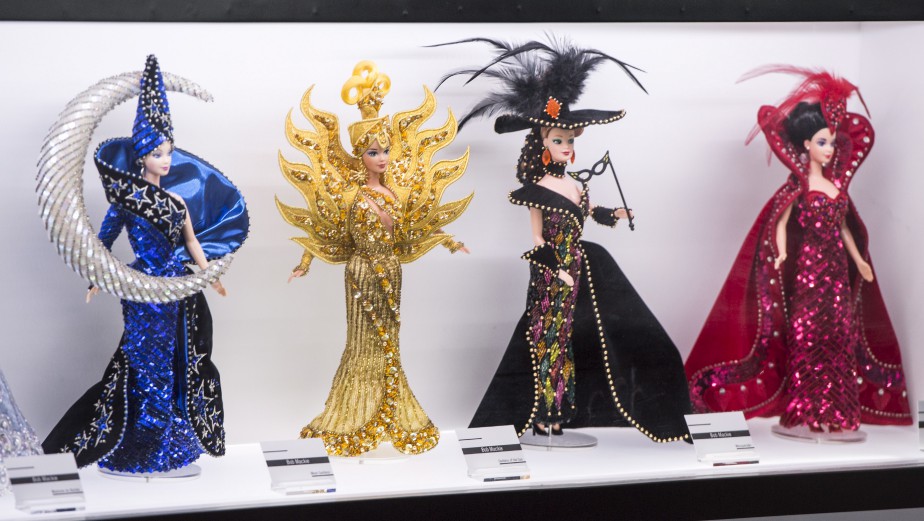 The best part about Barbie Expo is that this really isn't just a display for children. In fact, when I went on a Thursday evening, there was not a child in sight. It would certainly be a great place for a family outing, but the beauty of the exhibition is that even someone who has no interest in Barbie's whatsoever could get immersed in the finely crafted artistry of these dolls.
Whether your spirit doll is Corvette Barbie, Vera Wang Barbie, or the entire Dolls of the World collection, there is a lot of joy to be had here. Run, don't walk (make use of those bendable knees), to this exhibit because Barbie Expo is sure to get nothing if not more popular from here on out.